Memory Dialer™ is a desktop utility with a 90 numbers phone-dialing keypad designed to speed up placing and redialing telephone calls using PC for any of five dialing modes (Outlook Dialer, DTMF Tone, hands-free Microphone & Speakers/headset, Skype Out, external Phone).
The Software is integrated with Microsoft® Outlook®, and and allows importing and creating a list of preferred Contacts, checking their online status, and taking certain actions (Phone Call, Skype Out, Chat-Instant Messaging, Voice Conversation, Conference, Send a File, etc.), of these applications in one click from a single interface.
If you are looking for a handy tool providing extended communication capabilities on your workstation, Memory Dialer™ is just the software that will meet your needs.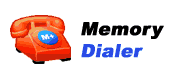 ©2006 4Team Corporation, All rights reserved

We would like to extend a special "thank you" to our many customers in the USA, the United Kingdom, Australia, Belgium, Germany, Switzerland, France, Singapore, and other countries for using our programs.

Memory Dialer demo

Memory Dialer website